An unforgettable event in the heart of Italian music and art in Christmas time
The ticket includes the concert in the gorgeous Throne Hall of the prestigious Doria Pamphilj Palace, and also the guided tour in English of the spectacular Private Apartments of the Princess adorned with the original furnishing of XVIII c.. A unique and unforgettable artistic experience, it will be one of the most wonderful memories you will take back with you from Rome. 
After the concert you can enjoy having dinner in the halls of the Restaurant Terrazza Borromini, at Piazza Navona.
The Restaurant is hosted the stunning Palazzo Pamphilj with wonderful views of the Eternal City. 
You will have a full sensorial experience tasting the best dishes of our traditional cuisine.
Duration: 70'
Venue: Palazzo Doria Pamphilj - Throne hall • Via del Corso 305
Palazzo Doria Pamphilj - Throne hall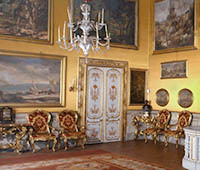 The Throne hall is part of the Private apartments of the Princess Gesine Doria Pamphilj. The splendid rooms are masterpieces of art and culture, perfectly preserved and still inhabited by the family.
Program
Program:
Johann Sebastian Bach: Preludio
Antonio Vivaldi: Cantata "All'ombra di sospetto"
(I Recitativo) All'ombra di sospetto – (II Aria) Avvezzo non è il core
Arcangelo Corelli: La Follia, Sonata per Violino e Basso Continuo
Antonio Vivaldi: Cantata "All'ombra di sospetto"
(III Recitativo) O quanti amanti – (IV Aria) Mentiti contenti
Johann Jeronimous Kapsberger: Arpeggiata
Luigi Rossi: Mio ben, Aria from the Opera "Orfeo"
Francesco Corbetta: Ciaccona
Georg Friedrich Haendel: Lascia la spina, cogli la rosa
Claudio Monteverdi: Quel sguardo sdegnosetto
Artists:
SCHOLA ROMANA ENSEMBLE
Paola Alonzi, Soprano
Roberta Palmigiani, Violin
Enrico Peluso, Cello
Lorenzo Sabene, Theorbo and Baroque guitar
Concert program may be subject to change
What's included
Entrance fee to the Throne hall
Concert

VIVALDI

AND

OPERA

Musical presentation (in the English language)
Tour in English inside the private apartments of the Doria Pamphilj Princess (before the concert)
Traditional Roman Dinner in the halls of the cozy Restaurant Terrazza Borromini at Palazzo Pamphilj, Piazza Navona.
Our ticket includes transportation to the restaurant with a taxi reserved for our guests.
Menu
Antipasti / Starter
Melanzane alla parmigiana
Eggplant parmigiana
or
Caprese
Fresh tomato and Buffalo mozzarella
Primo piatto / First course
Amatriciana
Pasta with black pork, bacon from Calabria and pecorino cheese 24 D.O.P, tomato sauce
or
Cacio e pepe
Pasta with Pecorino cheese D.O.P. with green, red and white pepper from Madagascar
or
Gricia
Pasta with black pork, bacon from Calabria and pecorino cheese 24 D.O.P.
or
Carbonara
Pasta with black pork, bacon from Calabria, eggs, black pepper from Madagascar and pecorino cheese 24 D.O.P.

Secondo piatto / Second course
Polpettine dello chef
Meatballs of the chef
or
Tesoretto di vitella ripieno di verdure di stagione
Veal stuffed with seasonal vegetables.
Contorno / Side
Verdure di stagione
Seasonal vegetables
Dessert
Dolce della casa
Chef's dessert
Bevande / Drinks
Water
Coffee
Wine not included
Gluten free and Vegetarian menu on request
This was truly a lovely experience. Make this a part of your "to see and to do" list while you are in Rome.
A one of kind opportunity to live The Eternal City with all of our senses at once. Thank you!
The concerts were intimate experiences of talented musicians and singers, splendid music and the vibrant spaces of the churches where the concerts took place.
A superb way to spend an hour in this wonderful city
Intellectually fulfilling and fun. It may not seem very touristic, but it would take your visit to Rome to another level.
The concert would have been enough with just the knowledgeable tour of the church. Add beautiful baroque music to that and I was in heaven.
We felt almost transported back in time. An experience not to be missed.
Shouldn't be missed by anyone who likes music, especially early music!.
What a great way to have an experience in a Baroque Palazzo.
It was a unique experience! Interesting and moving.
We were charmed by the genuine enthusiasm of the performers and recommend to other Travellers
We warmly recommend anybody, visiting Rom, who loves painting art as well as music to participate to this sound and vision tour.
beautiful church, and music!
Great venue - beautiful singing - they really gave it all they had. Highly recommended. Great start to any evening in Rome.
Well worth the investment of time and money.
A definite highlight of our trip