Opera buffa: a XVIII century authentic experience in a special Opera house.
La serva padrona (The head servant), a masterpiece of the Opera buffa (Comic Opera), performed in the exclusive venue of Doria Pamphilj Palace.
Composed by Giovan Battista Pergolesi, The head servant tells the playful story of Serpina, a young and ambitious servant, Uberto, her boss and Vespone, the other clumsy and funny servant. The show takes place in the superb Throne Hall, adorned with the original furnishing of XVIII c., in the Doria Pamphilj Palace private apartments.
Il Teatro dell'Opera buffa is a group of professional singers, actors, musicians, scenographers and costume designers, gathered together to offer you a unique and unforgettable artistic experience.
Duration: 90 min. (30' tour Private Apartments of the Princess, 60' La serva padrona)
Venue: Palazzo Doria Pamphilj • Via del Corso 305, Rome
Palazzo Doria Pamphilj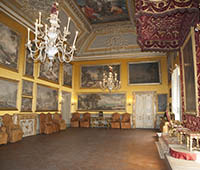 The Doria Pamphilj Gallery is the largest private art Gallery of Rome. The collection of paintings, sculptures, furniture has been assembled by the Family since the XVI c., and hosts masterpieces by Caravaggio, Raphael, Tiziano, Velazquez, Bernini. The Throne hall is considered a special Opera house, perfect for the Italian Opera buffa.
May 28 2017 • 18:30
€ 45 reductions available
---
September 10 2017 • 18:30
€ 45 reductions available
---
September 17 2017 • 18:30
€ 45 reductions available
---
... more options
---
Program
LA SERVA PADRONA by Giovan Battista Pergolesi
Compagnia del TEATRO DELL'OPERA BUFFA di Roma
Cast:
Serpina, servant (Soprano): Paola Alonzi
Uberto, her boss (Baritone): Giorgio Gatti
Vespone, mute servant (Actor): Tony Allotta
Cembalo: Tei Kim
Orchestra Mozart Sinfonietta
Scenes and costumes: Il Teatro dell'Opera buffa
Director: Dina Fabbri
Maestro concertatore: Stefano Sabene
Ticketing
Box Office at the event location, opening at 6:00am before the events.
Entrance: VIP Ticket € 60 – Unico € 45
VIP customers will be seated from the first to the third row, skip the line.
There isn't dress code.
With Roma pass you have a discount: € 40 instead of € 45
Under 18 years € 30;
Groups (min. 10 people): -10%
What's included
Exclusive access in the "Sala del Trono", that is inside the private apartment of the Doria Pamphilj Princess.
Guided tour in the English language of the Private apartments
Full performance of La Serva Padrona
The libretto of the Opera in English
We also suggest you the visit of the Doria Pamphilj Gallery before our event (the Gallery closed at 6:30 pm), ticket available at the b.o. of the Gallery (€ 11,00).
This was truly a lovely experience. Make this a part of your "to see and to do" list while you are in Rome.
A one of kind opportunity to live The Eternal City with all of our senses at once. Thank you!
The concerts were intimate experiences of talented musicians and singers, splendid music and the vibrant spaces of the churches where the concerts took place.
A superb way to spend an hour in this wonderful city
Intellectually fulfilling and fun. It may not seem very touristic, but it would take your visit to Rome to another level.
The concert would have been enough with just the knowledgeable tour of the church. Add beautiful baroque music to that and I was in heaven.
We felt almost transported back in time. An experience not to be missed.
Shouldn't be missed by anyone who likes music, especially early music!.
What a great way to have an experience in a Baroque Palazzo.
It was a unique experience! Interesting and moving.
We were charmed by the genuine enthusiasm of the performers and recommend to other Travellers
We warmly recommend anybody, visiting Rom, who loves painting art as well as music to participate to this sound and vision tour.
beautiful church, and music!
Great venue - beautiful singing - they really gave it all they had. Highly recommended. Great start to any evening in Rome.
Well worth the investment of time and money.
A definite highlight of our trip