Opera and champagne for an unforgettable evening
The most beautiful Opera Arias by Verdi, Puccini, Bellini, Donizetti, Rossini await for you in Rome in the exclusive setting of the Secret Apartment of Palazzo Doria pamphilj, home for amazing paintings and invaluable sculptures. Princess Mary, played by our actress dressed in 19th century clothes, will welcome you to the princely residence, and will reveal to you her beautiful love story behind the secret apartment.
You will enjoy the music and the champagne in the sumptuous living room furnished with furniture from the original period, while listening to the opera concert beautifully performed by a soprano, accompanied by the Princess' historical grand piano. Do not miss this unforgettable evening, where love is the protagonist. The event, that is unique in Rome, is reserved for a small number of participants during a private and exclusive opening of the residence.
Duration: 70 min.
Venue: Palazzo Doria Pamphilj, Secret Apartment • Via del Corso 305
Palazzo Doria Pamphilj, Secret Apartment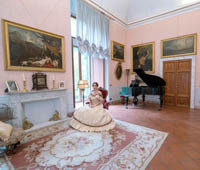 The Secret Apartment is part of the Doria Pamphilj Palace. The splendid rooms are masterpieces of art and culture, perfectly preserved and still inhabited by the family of the Princess Gesine Doria Pamphilj.
September 06 2022 • 18:30
€ 89 reductions available
---
September 13 2022 • 18:30
€ 89 reductions available
---
September 20 2022 • 18:30
€ 89 reductions available
---
... more options
---
Program
A vucchella (Arietta di Posillipo), Francesco Paolo Tosti
O mio babbino caro (Gianni Schicchi), Giacomo Puccini
Intermezzo (Cavalleria rusticana), Pietro Mascagni
Addio del passato (La Traviata), Giuseppe Verdi
Ah, non credea mirarti (La sonnambula), Vincenzo Bellini
Batti, batti bel Masetto (Don Giovanni), Wolfgang Amadeus Mozart
Qui la voce sua soave (I Puritani), Vincenzo Bellini
Quando men vo' (Boheme), Giacomo Puccini
Walzer, Frederick Chopin
La Vergine degli angeli (La forza del destino), Giuseppe Verdi 
Giusto ciel (L'assedio di Corinto), Giacchino Rossini
Libiamo nei lieti calici (La Traviata), Giuseppe Verdi
Artists:
Paola Alonzi, Soprano
Giulia Zadra, Actress
Tei Kim, Piano
Concert programme may be subject to change
What's included
6:15pm Entrance in the Secret Apartment in a private and exclusive opening
Pre-performance Champagne reception at this intimate and exclusive venue
6:30pm Visit of the Apartment with the Princess (played by our actress, English language)
6:50pm Opera concert, the best arias of Italian Opera for Soprano and historical Grandpiano
Introduction in English to the Opera program
This was truly a lovely experience. Make this a part of your "to see and to do" list while you are in Rome.
A one of kind opportunity to live The Eternal City with all of our senses at once. Thank you!
The concerts were intimate experiences of talented musicians and singers, splendid music and the vibrant spaces of the churches where the concerts took place.
A superb way to spend an hour in this wonderful city
Intellectually fulfilling and fun. It may not seem very touristic, but it would take your visit to Rome to another level.
The concert would have been enough with just the knowledgeable tour of the church. Add beautiful baroque music to that and I was in heaven.
We felt almost transported back in time. An experience not to be missed.
Shouldn't be missed by anyone who likes music, especially early music!.
What a great way to have an experience in a Baroque Palazzo.
It was a unique experience! Interesting and moving.
We were charmed by the genuine enthusiasm of the performers and recommend to other Travellers
We warmly recommend anybody, visiting Rom, who loves painting art as well as music to participate to this sound and vision tour.
beautiful church, and music!
Great venue - beautiful singing - they really gave it all they had. Highly recommended. Great start to any evening in Rome.
Well worth the investment of time and money.
A definite highlight of our trip