Musician, Painter, Scientist, Inventor: an immersive, all-round experience of Leonardo's Masterpieces for his 500° Anniversary
The event takes place inside the best museum of Rome dedicated to Leonardo Da Vinci, close to San Pietro and Vatican Museums. The musical program presents the masterpieces of the beginning of Italian Opera tradition, throughout the whole visit, and a concert closes the event. The guided tour in English shows an exhibition with 50 interactive machines, constructed on the base of Leonardo's original projects. Besides this, participants will marvel at the genius paintings, through exclusive certified copies, in their original sizes, and made up using same techniques and materials of the times. Opera, art and culture for an unforgettable experience in Rome.
Duration: 60 min
Venue: Museo "Leonardo da Vinci experience" • Via della Conciliazione 19 (near S. Peter Basilica and Vatican museums)
Museo "Leonardo da Vinci experience"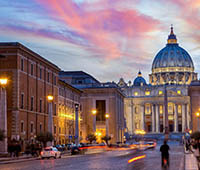 The museum, located near the S. Peter Basilica and Vaticans museums, contains fifty interactive inventions realized from Leonardo's projects and faithful copies of twenty-two famous paintings of the artist, like the Mona Lisa, the Virgin of the Rocks, Ecce homo and other masterpieces, recreated in scale 1:1 with the original materials used by the artist in according with the standards of the Ministery of Culture and Tourism.
The museum also host the full-size reproduction of The last supper, the controversial opera at the center of the novel The da Vinci Code by Dan Brown.
Program
Opera arias, Dances and music by Italian composers,
with an exclusive performance on original music notes by Leonardo da Vinci.
Artists:
Micaela Parrilla, soprano
Lorenzo Sabene, lute and 5 course guitar
Art historian: Monika Fejfer (in English language)
This was truly a lovely experience. Make this a part of your "to see and to do" list while you are in Rome.
A one of kind opportunity to live The Eternal City with all of our senses at once. Thank you!
The concerts were intimate experiences of talented musicians and singers, splendid music and the vibrant spaces of the churches where the concerts took place.
A superb way to spend an hour in this wonderful city
Intellectually fulfilling and fun. It may not seem very touristic, but it would take your visit to Rome to another level.
The concert would have been enough with just the knowledgeable tour of the church. Add beautiful baroque music to that and I was in heaven.
We felt almost transported back in time. An experience not to be missed.
Shouldn't be missed by anyone who likes music, especially early music!.
What a great way to have an experience in a Baroque Palazzo.
It was a unique experience! Interesting and moving.
We were charmed by the genuine enthusiasm of the performers and recommend to other Travellers
We warmly recommend anybody, visiting Rom, who loves painting art as well as music to participate to this sound and vision tour.
beautiful church, and music!
Great venue - beautiful singing - they really gave it all they had. Highly recommended. Great start to any evening in Rome.
Well worth the investment of time and money.
A definite highlight of our trip