Enjoy the best Songs of the Great Italian Opera
A romantic evening in the heart of Rome with the most beautiful Arias and love duets!
The best Songs and Music of the Great Italian Tradition will be performed in the gorgeous Throne Hall of Palazzo Doria Pamphilj.
Listen to the protagonists of the Great Italian Opera as Verdi, Puccini, Bellini and enjoy the most famous melodies of the traditional Neapolitan Songs.
With our ticket you will be able to tour the Private Apartments of the Doria Pamphilj Princess.
Duration: 80 min
Venue: Palazzo Doria Pamphilj - Throne hall • Via del Corso 305
Palazzo Doria Pamphilj - Throne hall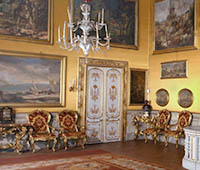 The Throne hall is part of the Private apartments of the Princess Gesine Doria Pamphilj. The splendid rooms are masterpieces of art and culture, perfectly preserved and still inhabited by the family.
Program
Mattinata (Duetto), Ruggero Leoncavallo
Recondita armonia (Tosca), Giacomo Puccini
O mio babbino caro (Gianni Schicchi), Giacomo Puccini
Questa o quella per me pari sono (Rigoletto), Giuseppe Verdi
Addio del passato (La Traviata), Giuseppe Verdi
Una furtiva lacrima (L'elisir d'amore), Gaetano Donizetti
Ah, non credea mirarti (La sonnambula), Vincenzo Bellini
Addio fiorito asil (Madama Butterfly), Giacomo Puccini
Vesti la giubba (I Pagliacci), Ruggero Leoncavallo
Quando men vo' (Boheme), Giacomo Puccini
A vucchella (Arietta di Posillipo) Francesco Paolo Tosti
Tu ca nun chiagne (Neapolitan song) Ernesto De Curtis
O marenariello (Neapolitan song) Salvatore Gambardella
Libiamo nei lieti calici (La Traviata), Giuseppe Verdi
Artists:
Paola Alonzi, Soprano
Antonino Ascrizzi, Tenore
Mehee Kim, Piano
Concert programme may be subject to change
What's included
Entrance fee to the Throne hall
Concert

OPERA

SERENADES

BY

NIGHT

IN

ROME

Musical presentation (in English language)
Tour in English inside the Private Apartments of the Doria Pamphilj Princess (before the concert)
A traditional dinner in the halls of the restaurant Terrazza Borromini, in Navona Square is available. All informations on the dedicated page.
This was truly a lovely experience. Make this a part of your "to see and to do" list while you are in Rome.
A one of kind opportunity to live The Eternal City with all of our senses at once. Thank you!
The concerts were intimate experiences of talented musicians and singers, splendid music and the vibrant spaces of the churches where the concerts took place.
A superb way to spend an hour in this wonderful city
Intellectually fulfilling and fun. It may not seem very touristic, but it would take your visit to Rome to another level.
The concert would have been enough with just the knowledgeable tour of the church. Add beautiful baroque music to that and I was in heaven.
We felt almost transported back in time. An experience not to be missed.
Shouldn't be missed by anyone who likes music, especially early music!.
What a great way to have an experience in a Baroque Palazzo.
It was a unique experience! Interesting and moving.
We were charmed by the genuine enthusiasm of the performers and recommend to other Travellers
We warmly recommend anybody, visiting Rom, who loves painting art as well as music to participate to this sound and vision tour.
beautiful church, and music!
Great venue - beautiful singing - they really gave it all they had. Highly recommended. Great start to any evening in Rome.
Well worth the investment of time and money.
A definite highlight of our trip