Guided tour and concert, together for a unique and captivating experience
A multi-sensorial tour, accompanied by music played by ancient instruments. The guided tour, in English language, will be held throughout the most exclusive locations, like the Grimaldina Tower and its prisons, the great stairs, the sumptous rooms and the arcades. An escalation of beauties, ending with the final concert held in the Cappella del Doge, exclusively reserved for the event, which will remain among the best memories of your staying in Genova.
Duration: appr. 70'
Venue: Palazzo Ducale • Piazza Matteotti 9 (other entrance Piazza De Ferrari)
Palazzo Ducale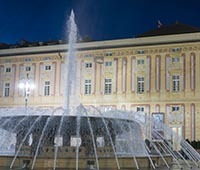 The Palace is one of the most important building in Genoa, which would be named "Ducale" from 1339, when it became the seat of the first Genoese Doge, Simon Boccanegra.
The great building (38,000 sq.m.), includes the Torre Grimaldina, the Prisons, two sumptuous Halls (Salone del Maggior consiglio e Salone del Minor consiglio, the great stairs, arcades, and the wonderful Cappella del Doge, decorated with frescoes by Giovanni Battista Carlone.
May 26 2018 • 18:00
€ 30 reductions available
---
June 02 2018 • 18:00
€ 30 reductions available
---
June 09 2018 • 18:00
€ 30 reductions available
---
... more options
---
Program
Opera arias, dances and instrumental music by
Claudio Monteverdi, Giulio Caccini, Girolamo Frescobaldi, Ferdinando Valdambrini, Gaspar Sanz, Stefano Landi.
Artists:
Nana Onishi, Soprano
Lorenzo Sabene, Baroque guitar.
This was truly a lovely experience. Make this a part of your "to see and to do" list while you are in Rome.
A one of kind opportunity to live The Eternal City with all of our senses at once. Thank you!
The concerts were intimate experiences of talented musicians and singers, splendid music and the vibrant spaces of the churches where the concerts took place.
A superb way to spend an hour in this wonderful city
Intellectually fulfilling and fun. It may not seem very touristic, but it would take your visit to Rome to another level.
The concert would have been enough with just the knowledgeable tour of the church. Add beautiful baroque music to that and I was in heaven.
We felt almost transported back in time. An experience not to be missed.
Shouldn't be missed by anyone who likes music, especially early music!.
What a great way to have an experience in a Baroque Palazzo.
It was a unique experience! Interesting and moving.
We were charmed by the genuine enthusiasm of the performers and recommend to other Travellers
We warmly recommend anybody, visiting Rom, who loves painting art as well as music to participate to this sound and vision tour.
beautiful church, and music!
Great venue - beautiful singing - they really gave it all they had. Highly recommended. Great start to any evening in Rome.
Well worth the investment of time and money.
A definite highlight of our trip