Online Booking
Reserve your tickets for OPERA: LA SERVA PADRONA
---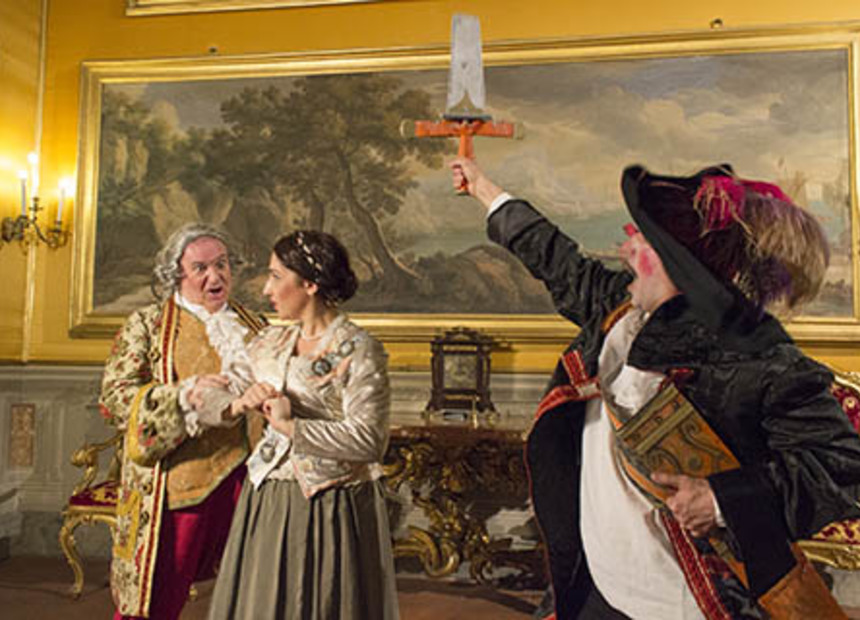 Palazzo Doria Pamphilj • Via del Corso 305, Rome | reduction available
La serva padrona (The head servant), a masterpiece of the Opera buffa (Comic Opera), performed in the exclusive venue of Doria Pamphilj Palace.
Composed by Giovan Battista Pergolesi, The head servant tells the playful story of Serpina, a young and ambitious servant, Uberto, her boss and Vespone, the other clumsy and funny servant. The show takes place in the superb Throne Hall, adorned with the original furnishing of XVIII c., in the Doria Pamphilj Palace private apartments.
Il Teatro dell'Opera buffa is a group of professional singers, actors, musicians, scenographers and costume designers, gathered together to offer you a unique and unforgettable artistic experience.
---
May 28 2017 • 18:30
€ 45 reductions available
---
September 10 2017 • 18:30
€ 45 reductions available
---
September 17 2017 • 18:30
€ 45 reductions available
---
September 24 2017 • 18:30
€ 45 reductions available
---
October 01 2017 • 18:30
€ 45 reductions available
---
October 08 2017 • 18:30
€ 45 reductions available
---
October 15 2017 • 18:30
€ 45 reductions available
---
October 22 2017 • 18:30
€ 45 reductions available
---
October 29 2017 • 18:30
€ 45 reductions available
---