Online Booking
Reserve your tickets for MUSIC FOR ROMAN EMPERORS AND POPES
---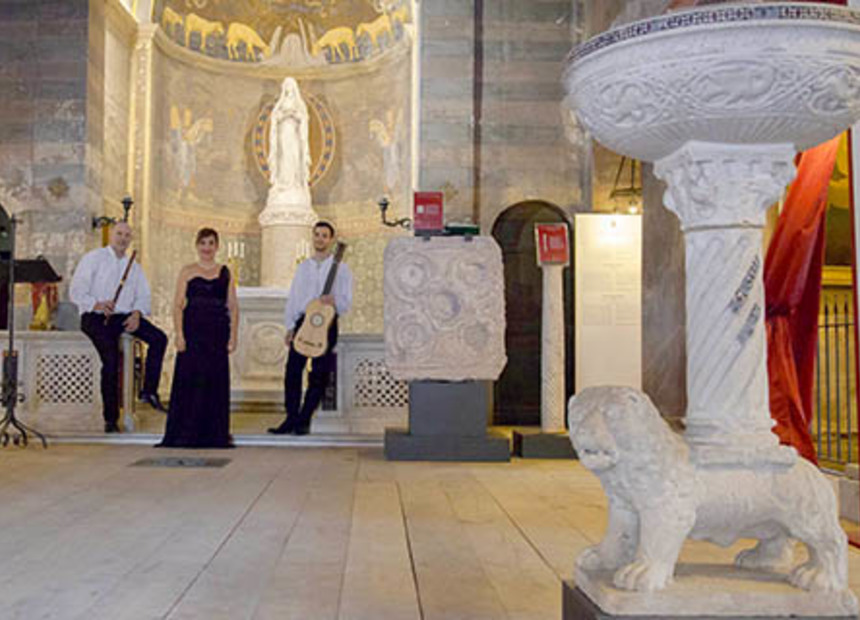 Chiesa S. Maria in Cappella - Secret Garden of Donna Olimpia • Lungotevere Ripa 3 (Trastevere, Tiber Island) | reduction available
If you want to take in the essence of the city, Trastevere is the place you must see.
Our event takes place in a historical site, just recently made accessible to the public with archaeological and artistic settings from Imperial Rome to Baroque Rome (Bernini, Borromini, Algardi, etc.).
During this unique concert, music and instruments will take you back in time from Emperor Hadrian (II c.) to Pope Innocent X (XVII c.). The English tour of the Church and Museum of Santa Maria in Cappella will be scenically played by the fascinating historical figure of Donna Olimpia, one of the most intriguing characters of Seventeenth Century Rome.
To close up you will have a brunch in the Secret Garden of Donna Olimpia, an exclusive and unforgettable experience.
---
September 03 2017 • 11:00
€ 33 reductions available
---
September 10 2017 • 11:00
€ 33 reductions available
---
September 17 2017 • 11:00
€ 33 reductions available
---
September 24 2017 • 11:00
€ 33 reductions available
---
October 01 2017 • 11:00
€ 33 reductions available
---
October 08 2017 • 11:00
€ 33 reductions available
---
October 15 2017 • 11:00
€ 33 reductions available
---
October 22 2017 • 11:00
€ 33 reductions available
---
October 29 2017 • 11:00
€ 33 reductions available
---