Rome Capuchins Crypt experience
A guided tour in English of the mysterious and fascinating Capuchins' Crypt, the beautiful Capuchins' Church and the Museum together with an intense live concert performing Gregorian chant and sacred polyphonic music.
From the spirituality of Caravaggio's painting The Meditation of Saint Francis to the choir, from the creepy walk through the 4000 bones of the Crypt to the sacred music that perfectly resonates in the Church, you will defintely live a unique experience!
After the concert you can enjoy having dinner in the Restaurant "Terrazza Borromimi", at Piazza Navona.
The Restaurant is hosted the stunning Palazzo Pamphilj with wonderful wiew of the Eternal City. 
You will have a full sensorial experience tasting the best dishes of our traditional cuisine.
Duration: 80 min
Venue: Museum, Crypt and Church of Capuchins • Via Veneto 27
Museum, Crypt and Church of Capuchins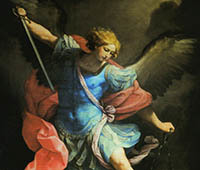 Santa Maria Immacolata is the Capuchins church in Rome, built by Pope Urbano VIII Barberini (XVII c.) close to Piazza Barberini, in Via Veneto, one of the most famous streets of Rome, set of the film La dolce vita, by Federico Fellini.
Inside the church, you can see masterpieces by Guido Reni (S. Michele Arcangelo), Domenichino, Pietro da Cortona, Gherardo delle notti, Antonio Sacchi and others. The shocking Crypt-museum is decorated with 4.000 bones of friars. Here you can find also a masterpiece of Caravaggio: La meditazione di S. Francesco.
Program
Music of the Sistine Chapel by Palestrina, Arcadelt, Morales, Victoria, Pitoni, Agazzari, Gregorian chant performed live by "Schola Romana Ensemble", our resident historically informed music group.
Organic:
Soprano, Alto, Tenor, Bass & Conductor
Art historian
What's included
Entrance fee to the museum
Guided tour in English of the Capuchins museum and of the church with an art historian
Introduction to the musical program
Concert in the reserved Capuchins church
Traditional Roman Dinner in the halls of the cozy Restaurant "Terrazza Borromini" at Palazzo Pamphilj, Piazza Navona. Our ticket includes transportation to the restaurant with a taxi reserved for our guests (3 min.)
Menu
Antipasti / Starter
Melanzane alla parmigiana
Eggplant parmigiana
or
Caprese
Fresh tomato and Buffalo mozzarella
Primo piatto / First course
Amatriciana
Pasta with black pork, bacon from Calabria and pecorino cheese 24 D.O.P, tomato sauce
or
Cacio e pepe
Pasta with Pecorino cheese D.O.P. with green, red and white pepper from Madagascar
or
Gricia
Pasta with black pork, bacon from Calabria and pecorino cheese 24 D.O.P.
or
Carbonara
Pasta with black pork, bacon from Calabria, eggs, black pepper from Madagascar and pecorino cheese 24 D.O.P.

Secondo piatto / Second course
Polpettine dello chef
Meatballs of the chef
or
Tesoretto di vitella ripieno di verdure di stagione
Veal stuffed with seasonal vegetables.
Contorno / Side
Verdure di stagione
Seasonal vegetables
Dessert
Dolce della casa
Chef's dessert
Bevande / Drinks
Water
Coffee
Wine not included
Gluten free and Vegetarian menu on request
This was truly a lovely experience. Make this a part of your "to see and to do" list while you are in Rome.
A one of kind opportunity to live The Eternal City with all of our senses at once. Thank you!
The concerts were intimate experiences of talented musicians and singers, splendid music and the vibrant spaces of the churches where the concerts took place.
A superb way to spend an hour in this wonderful city
Intellectually fulfilling and fun. It may not seem very touristic, but it would take your visit to Rome to another level.
The concert would have been enough with just the knowledgeable tour of the church. Add beautiful baroque music to that and I was in heaven.
We felt almost transported back in time. An experience not to be missed.
Shouldn't be missed by anyone who likes music, especially early music!.
What a great way to have an experience in a Baroque Palazzo.
It was a unique experience! Interesting and moving.
We were charmed by the genuine enthusiasm of the performers and recommend to other Travellers
We warmly recommend anybody, visiting Rom, who loves painting art as well as music to participate to this sound and vision tour.
beautiful church, and music!
Great venue - beautiful singing - they really gave it all they had. Highly recommended. Great start to any evening in Rome.
Well worth the investment of time and money.
A definite highlight of our trip