Aperitif viewing Rome in Christmas time from the most exclusive Venue of the city
Arias & duets by Verdi, Rossini, Puccini in the gorgeous Pope Innocence X " Hall at Palazzo Pamphilj in Navona square.. Treat yourself to a wonderful evening in a very *engaging atmosphere that only the Italian Opera can give.
The ticket includes the Italian aperitif in the Innocenzo X hall during the concert. We offer our guests after the concert a Guided tour of the Rooftop Terrace La Grande Bellezza with a breathtaking wiew of Rome, where scenes of the Oscar winning film was set.
Duration: 80'
Venue: Palazzo Pamphilj • Via S. Maria dell'Anima 30 (Piazza Navona)
Palazzo Pamphilj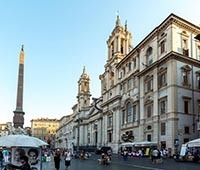 The Pamphilj Palace, a baroque masterpiece, is part of a large building complex on the right side of Piazza Navona, that includes the modern day Brasilian Embassy and the S. Agnese in Agone Church. The palace was built in 1644 by the architect Borromini for the Pamphilj family, during the pontificate of pope Innocenzo X Pamphilj, who wanted his private apartment in this Palace. The building is an authentic wealth of art, with masterpieces of famous artists like Guercino. The Palace has a beautiful Courtyard with an old well and the belltower with the mechanism of the huge watch visible from Piazza Navona. The terrace The Great Beauty offers a one-of-a-kind view: you will see S. Peter's Basilica, Castel S. Angelo, the Pantheon, the dome of S.Ivo alla Sapienza, Trinità dei Monti and Piazza del Campidoglio. A breathtaking view that will show you all the skyline of the eternal city.
The entrance is in Via S. Maria dell'Anima 30, few meters from Piazza Navona
January 02 2024 • 18.00
€ 118 reductions available
---
January 05 2024 • 18:00
€ 118 reductions available
---
... more options
---
Program
Best Arias and love duets from Italian Operas
Mattinata (Duetto), Ruggero Leoncavallo
E lucevan le stelle (Tosca), Giacomo Puccini
O mio babbino caro (Gianni Schicchi) Giacomo Puccini
La donna è mobile (Rigoletto), Giuseppe Verdi
La vergine degli angeli (La forza del destino), Giuseppe Verdi
O soave fanciulla (Boheme), Giacomo Puccini
Giusto ciel (L'assedio di Corinto), Gioacchino Rossini
Vesti la giubba (I Pagliacci), Ruggero Leoncavallo
Quando men vo' (Boheme), Giacomo Puccini
Addio fiorito asil (Madama Butterfly), Giacomo Puccini
Ah non credea mirarti (La Sonnambula), Vincenzo Bellini
Libiamo nei lieti calici (La Traviata), Giuseppe Verdi
Artists:
Paola Alonzi, Soprano
Antonino Ascrizzi, Tenor
Tei Kim, Piano
Concert programme may be subject to change
What's included
Private and exclusive entrance in the Innocenzo X Hall of Palazzo Pamphilj
Aperitif in the Hall: white or red wine, taste of Italian cheeses with honey and marmalade, selection of Italian salami)
Opera Concert during the aperitif with a final toast with the singers.
Introduction in English to the musical program
Guided tour after the Concert to the Rooftop Terrace La Grande Bellezza where scenes of the Oscar winning film was set
Optional dinner a la carte available after the concert: € 208
This was truly a lovely experience. Make this a part of your "to see and to do" list while you are in Rome.
A one of kind opportunity to live The Eternal City with all of our senses at once. Thank you!
The concerts were intimate experiences of talented musicians and singers, splendid music and the vibrant spaces of the churches where the concerts took place.
A superb way to spend an hour in this wonderful city
Intellectually fulfilling and fun. It may not seem very touristic, but it would take your visit to Rome to another level.
The concert would have been enough with just the knowledgeable tour of the church. Add beautiful baroque music to that and I was in heaven.
We felt almost transported back in time. An experience not to be missed.
Shouldn't be missed by anyone who likes music, especially early music!.
What a great way to have an experience in a Baroque Palazzo.
It was a unique experience! Interesting and moving.
We were charmed by the genuine enthusiasm of the performers and recommend to other Travellers
We warmly recommend anybody, visiting Rom, who loves painting art as well as music to participate to this sound and vision tour.
beautiful church, and music!
Great venue - beautiful singing - they really gave it all they had. Highly recommended. Great start to any evening in Rome.
Well worth the investment of time and money.
A definite highlight of our trip